Projects
Some of Northern Tilth's projects include:
Food Processing Digestate Characterization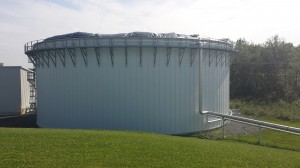 Provided a comprehensive soil amendment characterization of an anaerobically digested food processing by-product.  The study included a determination of nitrogen mineralization rates, phosphorus and potassium availability and the impact of the digestate on soil pH, organic matter and plant micro-nutrients.  Results of the study are being used to refine application rates for the 15,000 cubic yards of digestate that is applied to agricultural soils.
Nutrient Management Planning for Integrated Dairy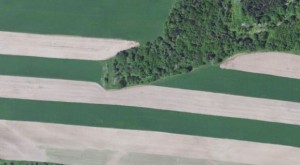 Northern Maine.  Completed a Comprehensive Nutrient Management Plan for one of the largest dairies in northern Maine.  Elements of the planning included crop rotations, reducing water quality risks through the use of a phosphorus index tool and providing for manure applications to precisely match crop needs in order to minimize the need for importing supplemental crop nutrients.
Water Treatment Residuals Phosphorus Reduction Field Trial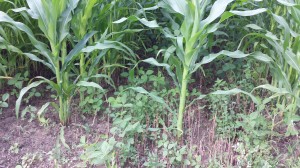 Conducted a field trial for Resource Management, Inc investigating the use of alum-based water treatment residuals to reduce plant-available levels of phosphorus in agricultural soils with a long history of manure applications.  Future work will include the development of best management practices for using water treatment residuals as an agricultural tool to reduce surface water quality risks associated with high phosphorus levels in soil.
Organics Recycling Feasibility Study.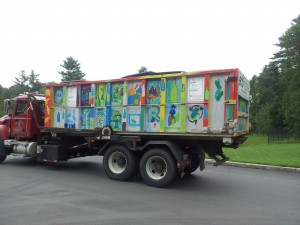 In association with Coker Composting & Consulting, Integrated Waste Management Consulting and Tech Environmental, Northern Tilth completed an organics recycling feasibility study investigating collections, processing and marketing for residential and commercial source separated organics (SSO) for ecomaine, a solid waste agency serving over 40 communities in southern Maine.
Design, Planning and Grant Procurement for Dairy Manure Composting Operation.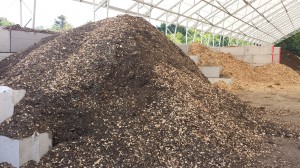 Otter River Farm, Winchendon, MA.  Worked with Otter River Farm to design a 10,000 ton per year covered composting operation.  Successfully procured  grant money from the USDA NRCS and Massachusetts Department of Agricultural Resources for the farm to help build and cover the facility.  Converted the existing windrow composting operation to aerated static pile composting to reduce the footprint of the facility, helping to improve surface water quality and reducing compost processing time.
Combined Manure Composting and Land Application Program.
Developed a manure management plan for a bioscience industry production farm located within a residential area in southern Maine.  The resulting plan included a combination of land application and composting to match manure management needs to the land-based restrictions of the farm.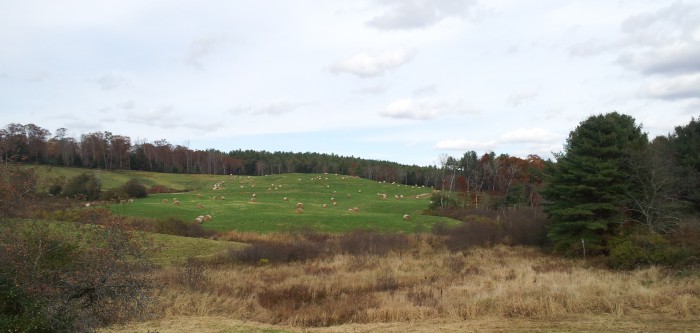 Seaweed Processing By-Product Use as Road De-icing Agent.
Permitted and implemented a pilot program using seaweed shakings as a substitute for road salt in sand/salt blends for road de-icing projects in Maine.
Biochar Bench-Scale Soil Fertility Study

Conducted a bench-scale soil incubation study for RMI in Holderness, NH, investigating the biochar-like properties of a high carbon ash material.  The study included nitrogen mineralization determinations and plant growth trials.
Planning and Permitting for a Food Processing By-Product Storage Site
Northern Tilth planned and permitted a year-round un-covered storage site for a food processing residual in support of a land application program for the material. Work included design assistance, local and state permitting, developing an operations plan and facilitating start-up operations.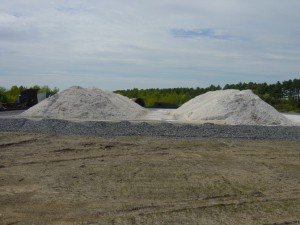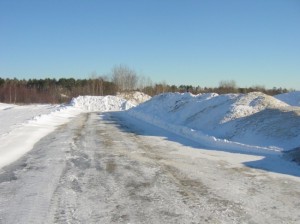 Food Ingredient Processing By-Products Recycling Program
Northern Tilth has completed nutrient availability and plant-growth trials for the semi-solid by-product from a food ingredients processing plant in the Phillipines.  Northern Tilth is currently working on developing a full scale agricultural recycling program for this nutrient-rich soil amendment.
Greenhouse Gas Emissions Accounting for Biosolids Management Programs
Northern Tilth collaborated with the Canadian residuals recycling firm Sylvis, Professor Sally Brown from the University of Washington and the North East Biosolids and Residuals Association (NEBRA) in developing a biosolids management greenhouse gas emissions calculator for the Canadian Council of the Ministers of the Environment.  The calculator assesses greenhouse gas emissions from all aspects of biosolids handling including anaerobic digestion, thermal drying, alkaline stabilization, incineration, composting and landfilling.
Conversion of Disturbed Land to Agricultural Land Using Residuals
Northern Tilth has been working extensively with Resource Management, Inc. of Holderness, NH to develop and improve the quality of topsoils manufactured from paper mill residuals and otherwise low-value sand to re-vegetate disturbed land.  Most recently, these topsoils have been used to convert barren land into productive hayfields.  In addition to creating agricultural land from formerly disturbed land, these projects sequester greater than 40 tons of carbon per acre.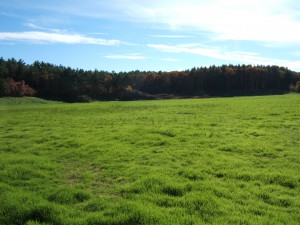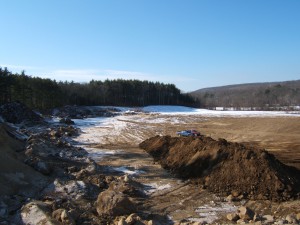 Spent Seaweed By-Product Recycling
Northern Tilth completed two years of agricultural and topsoil blending field trials for FMC BioPolymer, a carrageenan manufacturing plant that generates 23,000 tons per year of Algefiber, a spent-seaweed by-product.  Prior to Northern Tilth's work, all of the Algefiber was disposed in a local landfill. Based on the field trials and extensive materials characterization, Northern Tilth permitted and initiated a recycling program that currently handles 100% of the material.
Development of a Water Treatment Residuals Recycling Program
Based on field trials, Northern Tilth demonstrated that the Kennebunk, Kennebunkport and Wells Water District's water treatment residual could be successfully used as the mineral component in manufactured topsoil. Northern Tilth obtained the first water treatment residual recycling permit issued by the Maine Department of Environmental Protection. Northern Tilth continues to work with the water district in developing topsoil blends that are used by local contractors to improve the qualities of commercial topsoil.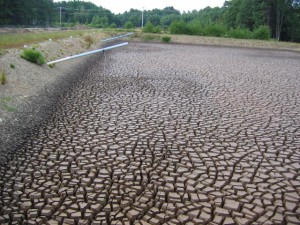 Wood Yard Revegetation Project with Paper Mill Residuals
Northern Tilth developed recipes and obtained regulatory approval for a Canadian paper mill working to revegetate a relict wood yard using a manufactured topsoil blend consisting entirely of residuals generated by the mill. The woodyard consisted of compacted sub-soil, incapable of supporting vegetative cover.  The area created a dust hazard in dry times of the year.  By-products in the topsoil include paper mill sludge (short paper fiber), ash from the mill's biomass plant, and partially decomposed wood from old hog fuel piles.  Northern Tilth oversaw blending and topsoil placement operations.  A robust self-sustaining grass/clover ecosystem was established within the first field season after topsoil placement.